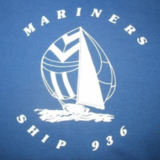 Adult Officer of the Deck (OOD) and Second Adult (2 deep leadership) for Thursday Evening J 24 Races
Sep 2, 2015 - Sep 3, 2015
5:00AM – 9:00PM
Opportunity Cancelled
Unfortunately, this event has been cancelled. Click below to find other opportunities from Mariners 936 Sea Scouts and Mariner Juniors.
View Charity Profile
EVENT DETAILS
The Officer of the Deck (OOD) should be a knowledgeable person with regard to Mariner Procedures and Policies. The OOD is expected to be on the docks when the youth are on the docks. Once the youth have left on the vessels the OOD may leave. The youth should inform the OOD by cell phone prior to returning to the docks so that the OOD will be present when the youth return. A second person should be available by cell phone and kept informed of the entire operation. It would be desirable for the second person to be at the docks when the youth are present so that the requirements of the BSA 2 deep leadership are met.
If two adults do not sign up for the supervision of these J24 race evenings, the evening activities shall be cancelled.
---
---
Mariners 936 Sea Scouts and Mariner Juniors Tax ID: 330052559