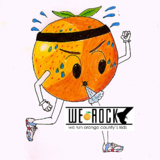 Coach K is Running Badwater 135!
Aug 1, 2015 - Aug 8, 2015
11:00PM
EVENT DETAILS
THE ULTIMATE JOG-A-THON
This is definitely not a jog-a-thon, but would you donate a mile in support of WeROCK?
We Run Orange County's Kids co-founder and head coach, Andrea Kooiman will be running the Badwater 135 on July 28th. Once she completes the race at the Whitney Portal, she will then summit to the top of Mt. Whitney. Total mileage traveled will be 144 miles (well, 155 since she has to get back off the mountain). She is dedicating each mile of her journey to WeROCK and the brave kids that run alongside her each year.
Coach K wants to remind everyone to always keep moving forward. Even slow movement is progress when headed in the right direction. It is amazing what you can achieve when you allow your mind to let go of the fear and start asking yourself.....what if I can?
Please show your support by selecting a mile of her journey and make a donation to the runners of WeROCK.
Here is a little bit about Badwater from their website: http://www.badwater.com/
"The World's Toughest Foot Race"
Covering 135 miles (217km) non-stop from Death Valley to Mt. Whitney, CA, the Badwater® 135 is the most demanding and extreme running race offered anywhere on the planet. The start line is at Badwater, Death Valley, which marks the lowest elevation in North America at 280' (85m) below sea level. The race finishes at Whitney Portal at 8,300' (2530m). The Badwater 135 course covers three mountain ranges for a total of 14,600' (4450m) of cumulative vertical ascent and 6,100' (1859m) of cumulative descent. Whitney Portal is the trailhead to the Mt. Whitney summit, the highest point in the contiguous United States. Competitors travel through places or landmarks with names like Mushroom Rock, Furnace Creek, Salt Creek, Devil's Cornfield, Devil's Golf Course, Stovepipe Wells, Panamint Springs, Keeler, Alabama Hills, and Lone Pine.
ABOUT WeROCK: www.werunockids.org
We Run Orange County's Kids is a nonprofit, public-service corporation that provides after-school intervention programs for Middle and High School students in the Orange County, California area.
Based on the idea that life is like a Marathon, the mission of We ROCK is to teach our community's teenagers the important life skills of goal setting, self-reliance, discipline and self-confidence through the design and delivery of instructional programs focused on the proper training for, and completion of, a marathon.
WANT TO TRACK COACH K DURING THE RACE?
Race Start: Tuesday, July 28th at 11pm
#AK47BW #Badwater #Badwater135 #WeRunOCKids #INVIGORDE #KeepItUp
Coach K's personal Facebook page: https://www.facebook.com/andrea.casellakooiman
Follow the 2015 webcast at: http://www.badwater.com/2015-badwater135-webcast/
Follow the time splits and results at: http://dbase.adventurecorps.com/results.php?bw_eid=74&bwr=Go
Follow the race on Twitter @Badwater (Join the conversation by adding hashtag #Badwater135 to all your tweets about the race.): http://twitter.com/badwater
Follow the race staff's live photostream on Instagram @BadwaterHQ (Contribute to the photostream by adding hashtag #Badwater135 to all your IG images about the race.): http://instagram.com/badwaterHQ
Follow the race director's live photostream on Instagram @ChrisKostman: http://instagram.com/chriskostman
Follow the race staff's photostream archive on Flickr: http://www.flickr.com/photos/adventurecorps/
Follow the race director's photostream archive on Flickr: http://www.flickr.com/photos/chriskostman/
Follow the photostream of runners and crew members on Flickr (Racers and crews who are members of the group may submit up to 25 photos per day during the race and afterward.): http://www.flickr.com/groups/badwater135
Join the Facebook conversation: http://www.facebook.com/badwater135
SHORT CLIP ABOUT BADWATER:
http://seekernetwork.com/seekerdaily/is-this-the-world-s-toughest-ultra-marathon/?utm_content=buffer12d85&utm_medium=social&utm_source=twitter.com&utm_campaign=buffer
---
---
We Run Orange County's Kids Tax ID: 800209885