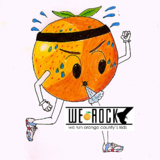 March 21, 2015
6:00AM – 12:30PM PDT
The WeROCK 20-Mile Qualifer is a timed race where the members of WeROCK and a small group of community members complete 20 miles to earn the opportunity to run the Orange County Marathon. Participants in the event are required to finish the distance in 5hrs 20 mins or less.
The event is scheduled to begin and end at the Mormon Church located at 28291 Alicia Parkway, Laguna Niguel, CA 92677
Participants will first run into Aliso & Woods Canyon Wildnerness park before they turn around and enter the Aliso Creek Trail. From there, the runners will follow the trail all the way to Creekside in El Toro. The Runners will once again turn around and head straight back to the church for their finish.
After 6 months of training, this event will determine whether or not our WeROCK runners are prepared mentally and physically for the task of the marathon. It is a race where the team bonds together to encourage one another forward.
WE NEED HELP
Aid station volunteer, course monitors, set up crew, clean up crew, general cheering section, runner check-in, runner check-out and finish line.
---
LDS Church
28291 Alicia Parkway
Laguna Niguel, CA 92677
Directions
---