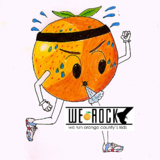 WeROCK 20 Mile Qualifier - Volunteer!
March 24, 2018
6:00AM – 12:00PM PDT
DETAILS
It's that time of year and we have some volunteer spots to fill. If you are available to help out, please sign up! Adult volunteers begin at 6am and finish around noon.Youth volunteers begin at 7am and finish at the same time.
We will provide you with a WeROCK Shirt and also lunch from our TK Burger Truck.
Thank you in advance for coming out to help at the event! This day is very special to the kids and we could not pull it off without you!
---