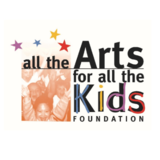 Art Auction XXV - 11/16
COMMUNITY
November 16, 2019
6:00PM – 9:00PM PST
DETAILS
I am proud to invite you to participate in the Annual Art auction presented by the All the Arts for All the Kids Foundation, scheduled for Saturday, November 16th in the Fullerton Downtown Plaza. This exciting community event allows us to provide outstanding arts education to more than 10,000 Fullerton School District (FSD) students. We need you!
The All the Arts for All the Kids Foundation is a nonprofit 501(c)3 organization. We believe that the arts are the birthright of every child and for 25 years, our foundation has ensured that our children receive the very best arts education. This well-attended event has been bringing together local artists, school faculty and administrators, community leaders and those with a true passion for art, all benefiting children in our community.
Thank you for demonstrating your desire to make our community stronger by supporting this exciting event! Without you, and your generosity, we would not be able to support our schools and ensure that the arts are available to 100% of our children.
---
---
---
---
Downtown Fullerton Plaza
125 E. Wilshire Avenue
Fullerton, CA 92832
Directions