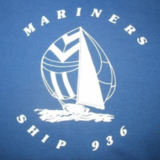 Adult Signup for Fall 2016 - Sailing Instructional Program on Saturdays
Our sailing instructional program is very ambitious. It requires a large number of dedicated adults to make it happen. If you find that you cannot make a commitment for which you have signed up, please find your own substitute.
The plan is that three adults will be available during the instructional program. The OOD is the adult in charge of the youth instructors and the other two adults. The office of OOD for a given time slot may only be held by Bill Prestridge, Kevin Mullen, Jeff DeLaurie or Bill Drewes. The other two slots must be held by adults experienced in driving the whalers and capable of rescuing persons in the water and capsized boats.
1 Supporters
---
---
Mariners 936 Sea Scouts and Mariner Juniors Tax ID: 330052559