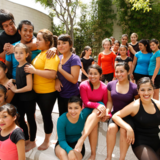 Annual Concert Volunteers Needed
October 10, 2015
4:45AM – 7:00AM PDT
The Wooden Floor's 32nd Annual Concert: As Light Comes Through is finally here! 
We are looking to recruit volunteers to work with our students and help facilitate the performances at the Irvine Barclay Theater.  Volunteers will do an assortment of tasks but will primarily be responsible for helping our students get ready for the performance and guiding them through the theater to their places.  A short training will be provided before each shift as well to answer any and all questions. 
Below, please find a listing of days and times you can sign up for.  We love our volunteers to sign up for as many shifts as they can do as our students will become more comfortable with consistent volunteers.  However, if you are only available for one shift we'd still love to have you!
Wednesday, May 27th
4:45pm- 9:00pm
Thursday, May 28th
4:45pm- 9:00pm
Saturday, May 30th
12:00pm-5:00pm
5:45pm- 10:30pm
 Please email Emily Parent at Emily@TheWoodenFloor.org if you would like to volunteer with us or if you have additional questions.  
Thanks!
Show More...
---
---