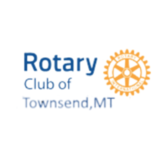 Annual Holiday Party
COMMUNITY
December 10, 2021
6:00PM – 10:00PM MST
DETAILS
The Rotary Club of Townsend has an annual Holiday Party every year. 
Here's some information about our 2015 Holiday Event:
This year the Holiday party was also a fund raiser to help send Linda Cousineau to India to participate in the Rotary International Polio Immunization program.
Over 75 people attended the party in the back  room of the Betsy.  The Itialian meal was catered by Marguerite of The Betsy's Kitchen and the meal was spectacular.
Party Meister Patrick Plantenburg started off the event by "auctioning" the first table to go to the buffett. After dinner the gift auctioning began.  Each guest at the dinner brought a gift to be auctioned off.  During the gift auction, each guest went to the gift table and selected a gift. After opening the gift, the guest was allowed to buy the gift for $10.00. Then the other attendees could bid to take the gift or to send the gift to another guest.  EVERYONE had a good time.  When all of the gifts were auctioned, three additional Rotary purchased gifts were made available for auction to everyone in attendance.  The gifts consisted of a box of Alaskan Fish (Halibut, Cod and Salmon), a giant Russell Stover chocolates selection, and a…
Show More...
---
---
---