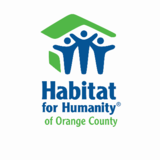 Build a House with Habitat for Humanity of Orange County
Apr 9, 2015 - Apr 11, 2015
7:30AM – 3:30PM
EVENT DETAILS
Habitat for Humanity of Orange County is part of a global, nonprofit housing organization operated on Christian principles that seek to put love and faith into action by building homes, communities and hope. Habitat for Humanity of Orange County is dedicated to eliminating substandard housing locally and worldwide through constructing, rehabilitating and preserving homes; by advocating for fair and just housing policies; and by providing training and access to resources to help families improve their shelter conditions. Habitat for Humanity was founded on the conviction that every man, woman and child should have a simple, durable place to live in dignity and safety, and that decent shelter in decent communities should be a matter of conscience and action for all.
Help Habitat OC Raise the Roof in our community by providing hard-working limited income families the opportunity to purchase safe, decent and affordable housing in Orange County. Volunteer your time and build along side these families and other passionate volunteers. Volunteers must create a profile on VolunteerHub.
Please note OSHA Safety Regulations state that ALL VOLUNTEERS must wear hard soled work boots or hiking boots. No tennis shoes or sneakers are permitted on the build sites. Click here for a sample of allowable footwear.

For liability reasons no one under the age of 16 is allowed on our construction sites. Volunteers ages 16 and 17 are welcome to build with us and are asked to bring a Site Specific Liability Form signed by a parent or legal guardian on their first build day. It is required that volunteers ages 16 and 17 be accompanied by an adult volunteer 25 years of age or older.
Thank you again for volunteering with us. If you have any questions or need assistance please feel free to contact Volunteer Services at 714.434.6200 x 234.
---
---
Habitat for Humanity of Orange County Tax ID: 330311059