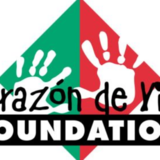 GOLF TOURNAMENT APRIL 24, 2015 TO BENEFIT BAJA ORPHANAGES
April 24, 2015
12:00PM – 8:00PM PDT
CORAZON DE VIDA GOLF TOURNAMENT
FRIDAY APRIL 24, 2014 - TIJERAS CREEK GOLF CLUB
BENEFITING BAJA MEXICO ORPHANAGES
Kingdom Coalition For Kids and the Corazon de Vida Foundation present a golf tournament on Friday April 24, 2015, 1:00 PM at Tijeras Creek Golf Club. Proceeds benefit Corazon de Vida Foundation, 20 year USA non profit that provides life support for 13 Baja orphanages.
Golf tournament will feature a Helicopter Golf Ball Drop, after tournament dinner and auction, and other golf activities throughout the day.
For more information, please click this link: http://bit.ly/CDVGOLF15
TEE IT UP FOR THE KIDS ON APRIL 24!
---
Tijeras Creek Golf Club
29082 Tijeras Creek
Rancho Santa Margarita, CA 92688
Driving Directions
Tijeras Creek Golf Club
29082 Tijeras Creek
Rancho Santa Margarita, CA 92688
Directions
---