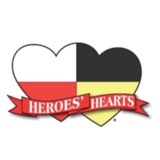 PUBLISHING PROJECT
GLOBAL
DETAILS
Five Birds Publications now operates entirely on behalf of Heroes' Hearts Inc. If a manuscript or potential project demonstrates a focus on opposing discrimination and abuse in all forms, then Five Birds Publications can offer (through its distributor, Ingram) worldwide availability of the finished publication. All copyrights, ISBNs, editing, marketing, and even event planning is available to the authors. See ODE TO LIFE! The Love Story, The Liquid Sphere, or The Journey from Orphan to Soke as examples of our most recent publications.
INCLUDES JOURNALISM PROJECT: Go To L&L Magazine
Other IMPORTANT, relevant publications: Pilar: A True American Story; Nine Masks; Gardens of Torissinia; Shidoshi (The Four Ways of the Corpse); The Panda Chronicles; The Five Principles of Everything.
Show More...
---
STORE ITEMS
Price

The Journey From Orphan to Soke--ebook

This is the instant download of this new book.

$10.00
---
SPONSORSHIPS
Price

The Liquid Sphere (script and lyrics)

This book is published in paperback and electronic book forms. A signed copy of this text can be ...

Show More...

$22.00

20 left
---
---