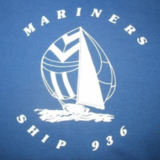 Swabby 09/10 and Tall Ship Festival 09/10-09/11
Regular swabby maintenance plus additional opportunities this weekend!
We need Mariner youth and adults to staff Mariner Info booth at Tall Ship Festival this weekend Sat/Sun Sept 10 and 11. Booth will be at sidewalk rope climb area between tall ships Spirit Of Dana Point and Pilgrim. We need a minimum of 2 youth and 2 adults at booth for each shift. Okay to have more. Parking is difficult, so plan to get dropped off, or park at Dana Hills High School and take the free shuttle bus.
Saturday Sept 10
9:30 - 12:00: Filled
12:00 - 2:30: Need 1 youth
2:30 - 5:00: Need 2 youth and 2 adults
Sunday Sept 11
12:00 - 2:30: Need 1 youth and 2 adults
2:30 - 5:00: Need 2 adults
---
---
Share
---
---
Mariners 936 Sea Scouts and Mariner Juniors Tax ID: 330052559