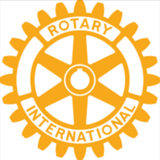 The Centennial Garden
COMMUNITY
DETAILS
HISTORY In 2005, Rotary International celebrated its 100th birthday and SCV Rotary president, Jim Lentini, who had been working on our club's birthday salute for over a year, was proud to cut the ribbon on the newly completed Centennial Garden in ceremonies held on February 23.
The garden, which overlooks the pools at the SCV Activity Center off Soledad Canyon Road, features tiles dedicated to local military heroes, as well as local officials, businesses, and citizens.  The City of Santa Clarita has been a partner of the project since its inception, providing the land and the upkeep. 
PROJECT Today, the garden is in need of repairs from skateboard damage to the benches and landscaping. Current Rotary president Glenn Terry has launched a fund-raising sale of garden tiles to help repair the damage and install beautiful rotary hand rails to protect the concrete benches.  Mr. Terry is also applying for a city grant to help with the project and the city will be replanting new plants around the garden during the fall.  The biggest expenses are the hand rails and repairs to existing community tiles already purchased from its inception.  The total project cost to repair and add rails…
Show More...
---
STORE ITEMS
Price

Area "A" Garden Tile

These are 12" X 12 " and allows for 6 lines max, (5/8" font) 20 characters per line (3/4" fo...

Show More...

$750.00

Area "B" Small Garden Tile

These are 8" X 8" allows for 4 lines max, (5/8" font) 13 characters per line (3/4" font) 10 ...

Show More...

$300.00

Area "B" Large Garden Tile

These tiles are 8" X 24" allows for 4 lines max (5/8" font) 40 characters per line (3/4" fo...

Show More...

$1,500.00
---
---
---
Centennial Garden
20870 Centre Pointe Pkwy
Santa Clarita, CA 91350
Directions