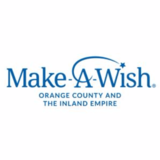 USC Day of SCervice - Alumni event at Make-A-Wish Orange County and the Inland Empire
March 12, 2016
9:00AM – 11:00AM PST
Calling all University of Southern California Alumni!
Help Make-A-Wish prepare for "Walk For Wishes" - our largest fundraising event of the year! This event helps us raise the funds to grant wishes to children with life-threatening medical conditions. Last year alone, we granted 335 wishes to children in our local area (Orange, Riverside and San Bernardino), and our goal this year is 347! Our morning will include assembly of some of the items we'll need for the event, as well as other projects to support granting wishes. And of course- a tour of our Wish House to learn more about our mission!
Parking is free and plentiful in our office lot.
Dress is casual- you will be provided with your Day of SCervice shirt when you arrive.
Due to the nature of the work, we recommend all participants be 12 years and older.
To register - click the "Donate or Volunteer" link above!
---
Make-A-Wish Orange County and the Inland Empire
3230 El Camino Real, Suite 100
Irvine, CA 92602
Driving Directions
Make-A-Wish Orange County and the Inland Empire
3230 El Camino Real, Suite 100
Irvine, CA 92602
Directions
---
Tax ID: 330036556