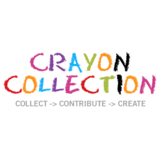 Donations Received Over Time:
About Crayon Collection
The mission of Crayon Collection is to use the collection and reallocation of gently used crayons to inspire a commitment to environmental consciousness and infuse art education into underfunded schools. Our model is simple but powerful: we ask restaurants and hotels that offer free crayons to children when they dine, along with community-based groups, to collect gently used crayons and then we redistribute them to the neediest of classrooms across the U.S. through our partnerships with the National Head Start Association (NHSA) and Region 9 Head Start. Given that teachers spend an average of $900 out of pocket for basic supplies, our repurposed crayons meet a crucial need for both classroom supplies and art resources, and help redirect millions of crayons from landfills. Through the simple act of saving a crayon, we seek to create a new "eco-normal" consciousness that inspires families and communities everywhere to be stewards of the environment and nearby communities in need.
---
Contact
Sheila Morovati
President/Founder

---
Crayon Collection EIN: 463314343
149 S Barrington Ave No. 649, Los Angeles, CA, 90049-3310