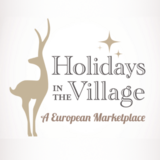 Holidays in the Village: A European Marketplace
A European Marketplace
Philanthropy & Volunteerism
|
Westlake Village, CA
Taste the flavors of Europe, at the Marketplace
Savory European Fare
Bratwurst, Sauerkraut & German potato salad
Stone Fired pizza from Made in Italy
Spanish Churros with chocolate sauce
Charcuterie with an array of cheeses & meats
Fresh German pretzels
Danish Ebelskivers
and plentiful baked goods!
Relax & enjoy Europe's finest spirits with your very own Holidays in the Village signature mug.
Specialty crafted brews from out local brew masters
Select wines from Stonehaus
Savor a warm mug of Gluehwein (a warm spiced wine), hot cocoa or apple cider
Festive Garden Entertainment
Featuring New West Symphony Brass Ensemble
Shop The Marketplace
.....and more at the European Marketplace!