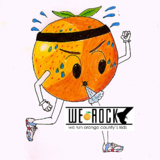 Coach K is Running the 2017 Badwater 135!
$3,197 Raised
$10,000 goal
EVENT DETAILS
THE ULTIMATE JOG-A-THON
This is definitely not a jog-a-thon, but would you donate a mile in support of WeROCK?
We Run Orange County's Kids co-founder and head coach, Andrea Kooiman will be running the Badwater 135 for her third time on July 10th. Once she completes the race at the Whitney Portal, she will then summit to the top of Mt. Whitney. Total mileage traveled will be 146 miles (well, 157 since she has to get back off the mountain). She is dedicating each mile of her journey to WeROCK and the brave kids that she runs alongside each year.
Coach K wants to remind everyone to always keep moving forward. Even slow movement is progress when headed in the right direction. It is amazing what you can achieve when you allow your mind to let go of the fear and start asking yourself.....what if I can?
Please show your support by selecting a mile of her journey and make a donation to the runners of WeROCK.
Here is a little bit about Badwater from their website: http://www.badwater.com/event/badwater-135/
"The World's Toughest Foot Race"
Covering 135 miles (217km) non-stop from Death Valley to Mt. Whitney, CA, the Badwater® 135 is the most demanding and extreme running race offered anywhere on the planet. The start line is at Badwater, Death Valley, which marks the lowest elevation in North America at 280' (85m) below sea level. The race finishes at Whitney Portal at 8,300' (2530m). The Badwater 135 course covers three mountain ranges for a total of 14,600' (4450m) of cumulative vertical ascent and 6,100' (1859m) of cumula... Show More...
---
---
---
We Run Orange County's Kids Tax ID: 800209885