Warning:
Givsum no longer supports Internet Explorer. Check supported browsers
here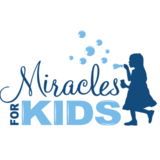 Surf & Paddle Summer Day Camp
Sep 10, 2015
7:00PM – 8:00PM
EVENT DETAILS
The Miracles for Kids Surf & Paddle Day Camp provides children with life-threatening illnesses, and their siblings, the opportunity to experience surfing and stand up paddle activities under the guidance of expert instructors. Located at various beaches around Orange County.
---
---
Miracles For Kids Tax ID: 912160616