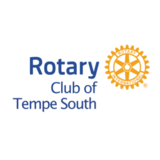 Tempe South Rotary - Buffalo Classic Golf Tournament for Tempe High School
COMMUNITY
April 15, 2023
7:30AM – 2:00PM MST
Each year, The Rotary Club of South Tempe supports the Tempe High School Buffalo Classic Golf Tournament, thru the Buffalo Foundation. The goals of the Foundation are to preserve the traditions and history of Tempe High School; and to promote the educational and cultural activities of the students, alumni, and community. Obviously, Tempe High School was the very 1st High School in Tempe, which now has 20 public, charter and online High Schools. Many members of our Rotary Club are graduates of THS, go Buffalos! 
Buffalo Foundation: 
Tempe High School opened its doors for the first time in September 1908 and has been in continuous operation since 1907. During the 2007-08 school year, we celebrated Tempe High's 100th anniversary, beginning with our Centennial Homecoming Celebration. 
The Buffalo Foundation was established in late 2006, and has become the prime alumni organization for Tempe High School. It helps preserve the proud traditions and history of Tempe High and can serve as an alumni resource for reunions and fundraising events.
The Foundation's mission is to support student activities and educational goals, and to provide financial assistance to Tempe High students and staff…
Show More...
---
AZ Grand Golf Resort
8000 S Arizona Grand Parkway
Phoenix, AZ 85044
Directions
---