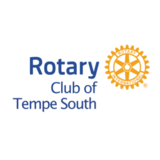 Tempe South Rotary & Keep Tempe Beautiful - Tempe Town Lake Cleanup
COMMUNITY
April 22, 2023
8:00AM – 11:00AM MST
During the Rotary Week of Service throughout Arizona, The Tempe South Rotary Club & Keep Tempe Beautiful are partnering on a Tempe Town Lake Cleanup project! 
We will be on the north shore, in the area next to the Mill Ave bridge. Enter thru E Curry/Washington) :
PLEASE SIGN UP HERE: https://keeptempebeautiful.org/event/april-2023-trashtag-cleanup-tempe-town-lake/
All necessary equipment and trash containers will be provided by Keep Tempe Beautiful. Rotary members are asked to sign up at the Tempe South Rotary site and at the Keep Tempe Beautiful site.
The Keep Tempe Beautiful site can be accessed at keeptempebeautiful.com
Members can choose to work shifts in one hour increments. So you could work as little as 1 hour or work all three hours.
Help us make Tempe South shine during Rotary Week of Service
A little history:
From a Classroom Assignment to a Tempe Icon
In 1966, Dean James Elmore of the College of Architecture at Arizona State University challenged his students to create design concepts that would utilize the dry river bed. Students designed the Rio Salado Project: a series of locks and channels creating an inland seaport in the desert. The concept, which received recognition…
Show More...
---
Tempe Town Lake
620 N Mill Ave
Tempe, AZ 85281
Directions
---