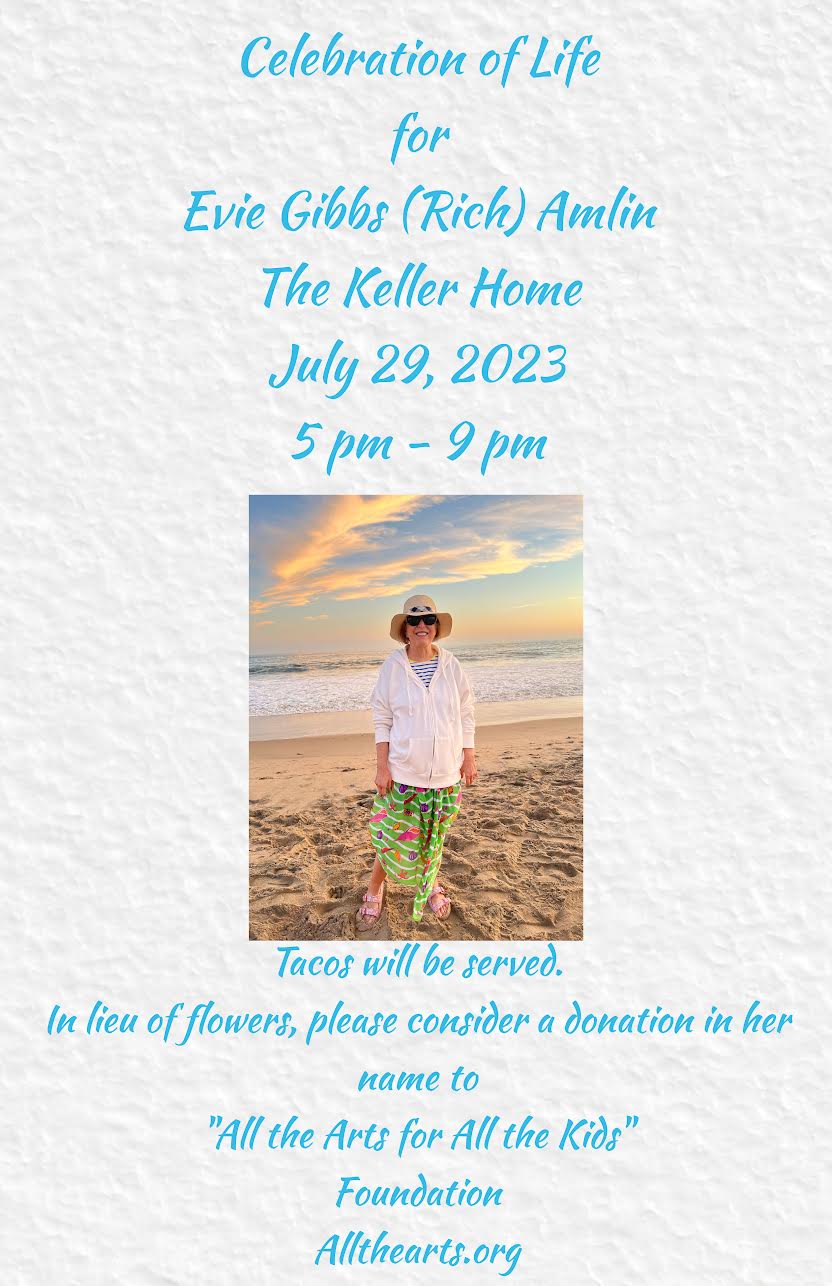 Evie Amlin (Mama, Grammie) had a lifelong love for the arts!
When her daughters were young most of their clothes were hand sown.
She loved knitting and crocheting using her talent to donate to others in need (ie; chemo caps for children with cancer).
She loved creating and painting rocks to hide all over Fullerton and share with her friends. She created garden art out of old glass and pottery she found in thrift stores. She loved making pieces for The All the Arts for All the Kids Foundation fundraisers, in hopes of contributing to the cause.
She participated in art classes and loved to learn new techniques.
She was a member of the Fullerton Civic Light Opera's Women's Guild.
She loved teaching her friends new skills. Every holiday she prepared an art project, gathered the materials and her friends and opened her home for the event.
She even taught the students in the Orangethorpe Multi-age Program how to paint rocks on Zoom during the pandemic!
In lieu of flowers,
please consider donating in Evie's name to All the Arts for All the Kids Foundation.
If using the QR code, click on the Donation In Memory of Evie Amlin bar to make a donation.
Every $30 will provide every FSD student with professional trained arts: Dance, Music, Theatre, Visual Arts, and Media Arts.
All the Arts for All the Kids Foundation is an independent non profit organization dedicated to developing, sustaining, and supporting the arts as an intrinsic part of every child's education.
It is this organization's passionate belief that the arts are the birthright of every child and as such the AtAFoundation champions the arts for students. We enthusiastically raise funds which are used exclusively to supplement ongoing arts programs, while supporting our Artists/Educators.
All the Arts for All the Kids Foundation is honored to be part of Evie's Celebration of Life. Evie was always one of the Foundations biggest cheerleaders. She will be missed by the Fullerton Art community, and every life she touched.
Celebration of Life
for
Evie Gibbs (Rich) Amlin
The Keller Home
July 29th
5pm-9pm
In lieu of flowers-
Please consider a donation in her name to
All the Arts for All the Kids Foundation
Allthearts.org
---
---
Tax ID: 330606161