Come Join Us In Community Service
Rotarians throughout Arizona recently completed their first-ever "Rotary Week of Service," April 17-24, 2021, but Rotarians are PEOPLE OF ACTION and our efforts to help those in need continue throughout the year.
This year's "Week of Service" featured community service projects conducted in over 60 cities and towns throughout the state. Among those benefitting from the Week of Service projects included families, nonprofit organizations, schools, community centers, public parks, homeless shelters and more.
Arizona Governor Doug Ducey proclaimed April 17-24, 2021 as "Rotary Week of Service."
Our efforts to provide assistance continue throughout the year, and we invite you to join us as we conduct community service projects throughout our communities, our state and the world!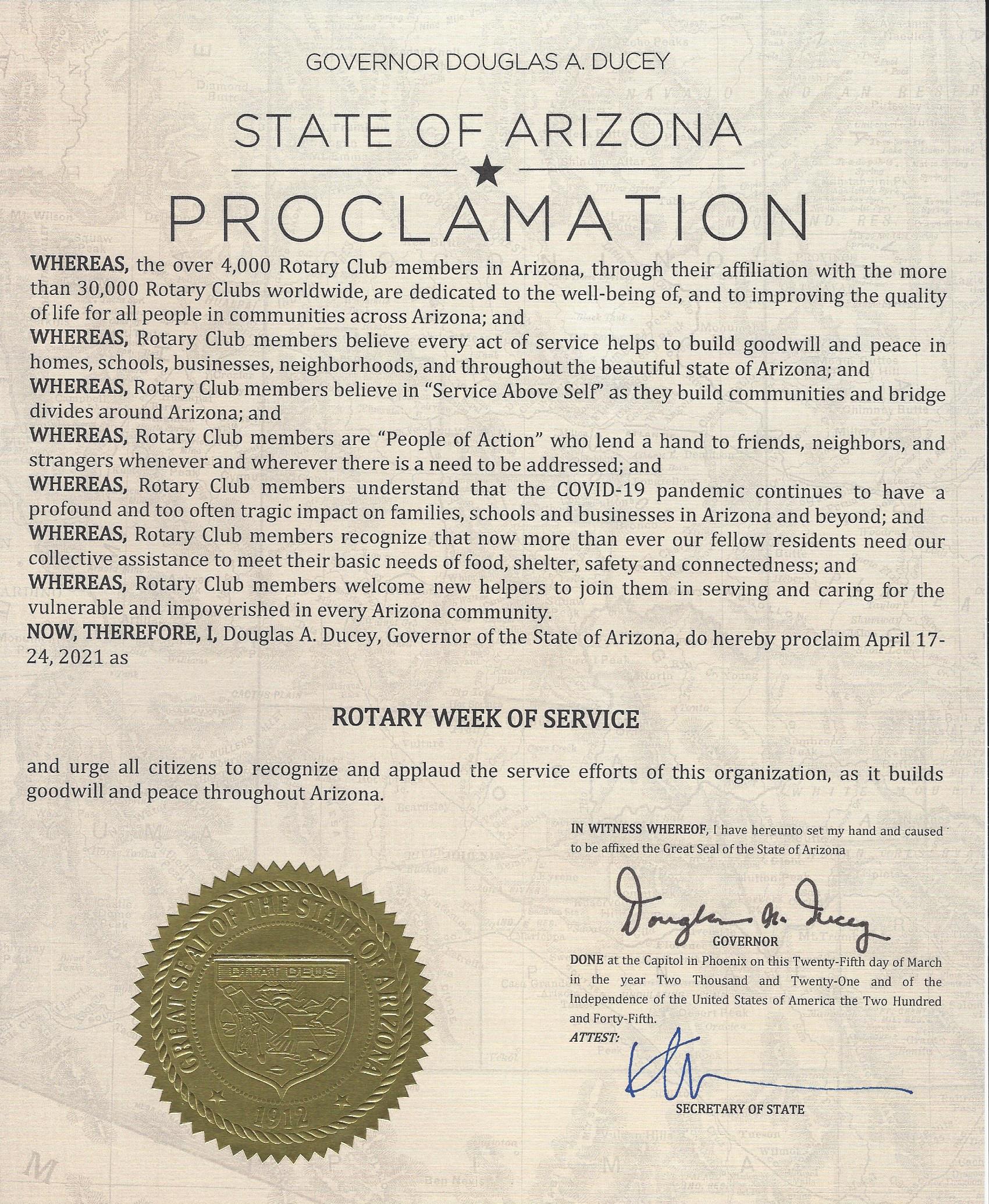 Rotary has served our citizens in Arizona for over 100 years. Arizona is presently served by two Rotary districts (5495 and 5500) with over 3,000 members in more than 100 Rotary clubs in communities big and small. Our community projects include providing food for local food banks, supporting children in the classroom, cleaning up city streets, providing shelter for the homeless, building local playgrounds, assisting our community's most vulnerable citizens and much, much more!
Below is a list of our past Rotary projects and other year-long projects. We invite you to view the list, find a project that meets your area of interest and -- contact that Rotary Club for information on how you can become involved and support the cause.
Rotarians are People of Action and believe community service can change lives! Come Join Us!
https://youtu.be/uGcNLcnPN_s
We appreciate support for Rotary Week of Service from our Community Partner: American Furniture Warehouse.

Rotary brings together a global network of volunteer leaders who dedicate their time and talent to tackle the world's most pressing humanitarian challenges. Rotary connects 1.2 million members from around the world. Their work impacts lives at both the local and international levels, from helping families in need in their own communities to working toward a polio-free world. Worldwide, Rotary's six areas of focus are: Promoting peace, fighting disease, providing clean water, saving mothers and children, Supporting education and growing local economies. Beginning this July, Rotary will add a seventh area of focus: Protecting the environment.
Rotary District 5495 has not yet activated their merchant account with Givsum. Your donation will go to the GIVSUM Foundation who will issue a check to Rotary District 5495 ( less applicable fees ) as a grant within 30 days. You will get a tax receipt for the full amount of your donation from the GIVSUM Foundation, which you may use for your tax purposes.
Opportunities
Ongoing and User Campaigns
Calendar
Impact
80.0%
Volunteer Opportunities
---
Special Events:
Contacts
To comment/questions regarding this site, to suggest changes or recommend a community service project for Rotarians to consider, email
publicimage@rotary5495.org
.
Want more information about Rotary -- Our mission and all the great things we do in Arizona and throughout the world?
---